Product
New Light Industrial Tapes
New Light Tape
For Turning Bars, Triangular Formers, Guide Plates and More
New Light Tapes are an industrial adhesive tape made of Ultra-High Polymer Polyethylene. New Light Tapes are resistant to abrasion and is superior to other tapes and films made from Fluoric Resins, Nylon or other materials. New Light Tapes also provide self-lubricating capabilities and a coefficient friction that is as low as Fluoric resins, and has exceptional slip characteristics. New Light Tapes can also be used in a wide variety of applications requiring qualities such as superior resistance to chemicals, static electricity dissipation, liquid absorption, vibration or shock and it is non-toxic.
Features
New Light Tapes resistancy to abrasion is vastly superior to any other plastic material.
Approximately 6 times greater than Fluoric resins and 5 times greater than Nylon and 6 times greater than Polyurethanes
The surface slip characteristics rival those of Fluoric resins and approximately twice as efficient of Nylon resins
New Light Tapes ability to withstand shock is the highest among plastics, even at extremely low temperatures
New Light Tapes maintain extreme stability against most chemicals with the exception of certain concentrated inorganic acids and agents
New Light Tapes water absorption is less than 0.01%, about 1/10 of Nylon resins
Approved by the FDA and Japan Foodstuff and Hygiene Administrations
Applications
Commercial Web & Newspaper Presses

Turing Bars, Triangular Formers, Guide Plates, Etc.

Sheet-Fed Presses

Paper Supply Devices, Paper Discharge Devises

Business Forms Presses

Turning Bars, Guide Rollers, Etc.

Book Binding Machines, Bag & Sack Making Machines

Turning Bars, Guide Rollers, Etc.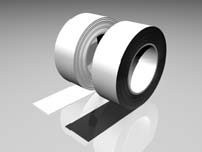 New Light Industrial Tape Availability
| Part Number | Description | Color | Gauge | Width | Length | U/M | Roll Quantity |
| --- | --- | --- | --- | --- | --- | --- | --- |
| NLT-W-130-050 | General Use | White | .005" | 1.968" | 65' | Case | 2 |
| NLT-W-130-100 | General Use | White | .005" | 3.937" | 65' | Case | 1 |
| NLT-W-250-050 | General Use | White | .009" | 1.968" | 65' | Case | 2 |
| NLT-W-250-100 | General Use | White | .009" | 3.937" | 65' | Case | 1 |
| NLT-B-130-050 | Anti-Static | Black | .005" | 1.968" | 65' | Case | 2 |
| NLT-B-130-100 | Anti-Static | Black | .005" | 3.937" | 65' | Case | 1 |
| NLT-B-250-050 | Anti-Static | Black | .009" | 1.968" | 65' | Case | 2 |
| NLT-B-250-100 | Anti-Static | Black | .009" | 3.937" | 65' | Case | 1 |
| NLT-B-400-100 | Anti-Static | Black | .015" | 3.937" | 65' | Case | 1 |
| NLT-B-400-150 | Anti-Static | Black | .015" | 5.905" | 65' | Case | 1 |
| NLT-B-500-100 | Anti-Static | Black | .019" | 3.937" | 65' | Case | 1 |